In this article, we came up with top 10 historical places to visit in Hyderabad with your family and friends. There are so many tourist spots in Hyderabad to spend you holidays.
Apart from the beautiful monuments of the city, you can find delicious biryani, and traditional cuisine as well.
Hyderabad has a lot to offer to tourists.
Along with the unique old market for shopping enthusiasts, there are many malls here.
Find the list of most visited top 10 tourist places in Hyderabad.
1. Mecca Masjid
Mecca Masjid, located just 100 meters from the historic Charminar.
It took almost 80 years to build it.
Its construction was completed in 1694 by the Mughal emperor Aurangzeb but started construction in 1617 by Sultan Muhammad Quli Qutb Shah.
The interior of the mosque is astonishing as well as the interior of the Belgian crystal in the mosque, which is beautifully designed with five arches on each side.
The Quran also has verses of the Quran on its arches and doors.
2. Balaji temple
It is a modern and magnificent temple built by the local Oriya community.
This magnificent temple is very well built on an attractive peak 70 feet high. It represents reality, which is known for its construction with red sandstone.
Find the best hotels in Hyderabad under 1000Rs
3. Snow world
Snow World is one of the most amazing places to visit in Hyderabad with family.
This attractive place is one of the largest icy areas spread over 17,000 sq. ft.
Close to reality, it is built with state-of-the-art ice-making technology.
Apart from playing on the ice here, which is made of mineral water, you can also play sports like ice skating, boarding, car bumping and slide on snow with toboggan rides.
4. Golconda Fort
One of the historical places to visit in Hyderabad is "Golconda Fort" which is 11 km away from the bustling urbanization of Hyderabad.
This is one of the oldest forts in Hyderabad as well as
It is built on a hill 400 feet high. Golconda means 'shepherd hill'.
It was built by three dynasties; Kakatiyas, Bahmanis, and Qutb Shahis.
Thousands of tourists from all over the world come here and appreciate the architectural splendor of the fort.
Sound and light show here in the evening brings the grandeur of this fort alive.
Recommended:
Best Family Holiday Destination
Top 10 Honey Moon Destinations
5. Charminar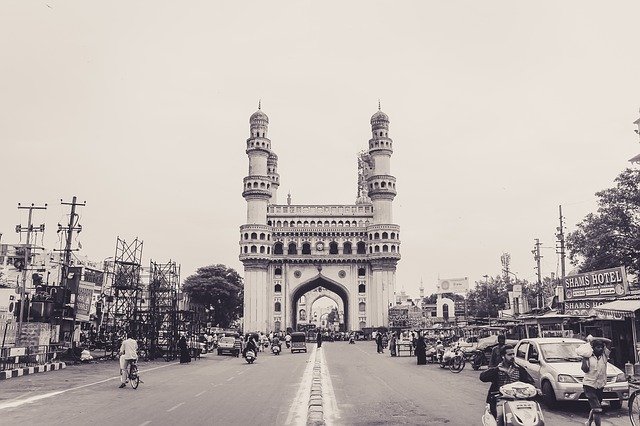 The Charminar is decorated with four towers in each corner.
The fifth Sultan of Golconda Dynasty Sultan Mohammed Quli Qutb Shah was built in honor of his wife Baghmati.
is also a small mosque on the top floor of Charminar. In the evening the light here looks bland and makes it a must-visit the place.
Today, Charminar is a global symbol and is also listed among India's most recognized structures.
6. Birla Temple
Birla Mandir is an attractive modern temple built on the hill of Kala Pahad.
It is at the south end of the Hussein Sagar Lake. It is believed that 2000 tons of white stones were brought to build this amazing temple in 1976.
The temple has Venkateswara, Padmavati, and Andal as well as a separate temple dedicated to Lord Buddha.
7. Ramoji Film City
Ramoji Film City is present in every tourist's list due to the magical theme of cinema.
Spread over 2,000 acres and is the largest film city in the world.
Ramoji Film City decides that every tourist spends more time in most of the day spent here.
8. Nehru Zoological Park (one of the favorite places to visit in Hyderabad)
Nehru zoological park is one of the attractive and beautiful parks.
Tourists can also enjoy a variety of facilities such as a tie train, children's park, boating, and sea aqua life revolving around large aquariums throughout the day.
Samples of more than 1,500 rotating birds, animals and reptiles are seen and the park also encourages the public to adopt wild animals.
9. Salar Jung Museum
There is a must-visit place in Hyderabad with your family, which is the Salar Jung Museum.
It is one of the premier museums in India with 38 galleries spread over three buildings.
It is on the banks of the Musi River and has a huge collection of 43,000 art objects, 9,000 manuscripts, and 47,000 printed books.
It is considered one of the largest forest reserves in the world.
10. Hussein Sagar Lake
Since 1562, Hussein Sagar Lake has been adorning the twin cities like Hyderabad and Secunderabad.
One of the largest lakes in India, it was named Hussein Sagar after the famous Sufi saint Hussein Shah Wali.
The main attraction of this place is the white granite statue of Lord Buddha weighing 350 tons and 16 meters high in the middle of the lake.
Conclusion:
These were the list of top 10 Historical Places To Visit In Hyderabad. In my opinion, the best time to visit Hyderabad is in winter month because in summer the temperature will be high.
If you have sufficient time then you must visit all the places listed above.
If you like the article feel free to share and comment your feedback to improve our quality if any.