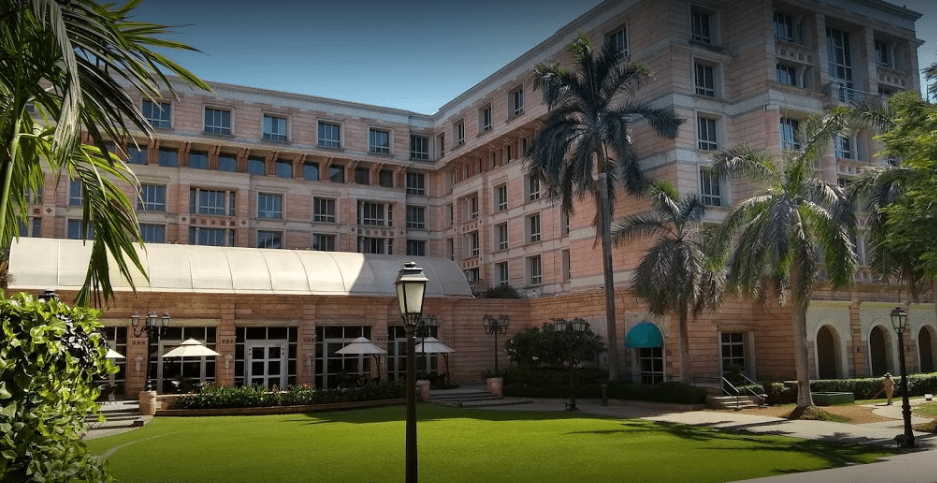 Hotels Near By Mumbai Airport
The most recommended hotels in Mumbai are listed below near to Mumbai airport.
1. JW Marriott Mumbai Sahar
Unparallel luxury and world-class service await you at JW Marriott Mumbai Sahar in Mumbai located just half a mile from the international terminal of Mumbai Airport. JW is 5-star hotel accommodations feature 588 spacious rooms with pillow-top beds, high-speed Wi-Fi, and marble bathrooms, as well as generous work desks and 24-hours room service.
Sample a mélange of cuisines, including authentic Italian, Japanese or classic Indian at any one of the luxury hotel's restaurants.
Well-appointed indoor show spaces are perfect for corporate get-together s, grant ceremonies, weddings or social functions.
The hotel's spa by JW Marriott Mumbai Sahar, fitness center and poolside relax zone with cabanas offer the ideal spots to unwind and soak up the warm sun. The spa additionally offers in-suite back rubs and treatments. The hotel also has a kids' playroom with a bouncy castle, games and toys, a dedicated art and craft station, and a meal station.
Location– Chhatrapati Shivaji International Airport, IA Project Rd, Navpada, Vile Parle East, Vile Parle, Andheri, Maharashtra 400099.
Starting Tariff– USD 153.
Phone No.- 02268828888. Visit – Online Booking 
2. The Leela Mumbai
The Leela Mumbai, one of the top 5-star luxury business hotels in Mumbai, does justice to the city of dreams with its exquisite room and suites, world-class dining options, a signature spa and so much more.
The Leela Mumbai is a 390 room hotel feature chic and modern amenities with several acres of lush landscaped gardens, waterfalls and a lotus filled fountain.
The hotel is 5-minutes from the international airport and conveniently located in North Mumbai's commercial center and export zone. This award-winning hotel is an ideal venue for banqueting events of any scale as it has a broad range of function rooms' elegant meeting rooms to large areas for grand events.
The hotel's excellent banquet planning services are equipped to cater to both corporate and individual needs. Facilities and guestrooms at The Leela Mumbai have cutting edge technology and personalized services offered at the Royal Club.
A range of restaurants with stylish décor offers unique and distinctive flavors. The well-maintained hotel is a standing example of the perfect medley of design, luxury, hospitality, convenience, and pure class.
Location– Sahar Airport Road, Andheri-Kurla Rd, near Mumbai International Airport, Andheri East, Mumbai, Maharashtra 400059.
Starting Tariff– USD 119.
Phone No.- 02266911234.  Online Booking 
You May Also Like:
Best Time To Visit Mahabaleshwar
How To Reach Pondicherry From Mumbai
How To Reach Manali From Navi Mumbai
3. ITC Maratha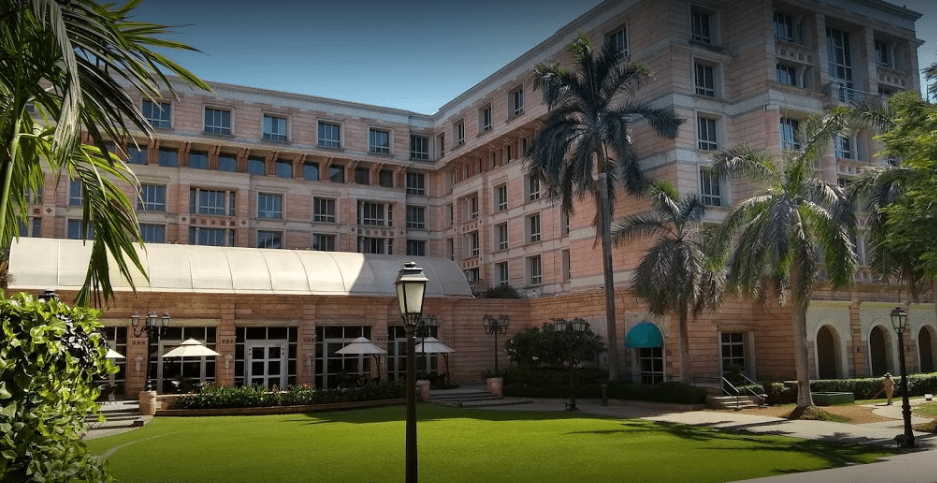 ITC Maratha is a short distance (i.e. 2 km from the international terminal and 5 km from the domestic terminal) away from the airport.
ITC Maratha is one of the main 5-star exclusive hotels in Mumbai, the business capital and dream city of India. ITC Maratha captures the essence of Maharashtra's heritage and culture through its various offerings.
The highlight of the hotel is its architecture and interior spaces. 1.75 lakh sq. feet, each hand-carved has been used for its cladding and pillars patterned in the 18th and 19th centuries.
The hotel has 380 spacious rooms including 27 suites. Rooms are luxurious by Mumbai standards with rich interiors and world-class amenities. With various venues, delectable cooking and customized service, ITC Maratha is a perfect scene for corporate gatherings, symposiums, socials or weddings. Glasshouse, conservatory ambiance of Catherine's is perfect for a spot of afternoon tea.
Some other facilities include the Kaya Kalp Spa, a salon, an outside pool, and a 24-hour gym. It is in nearness to the bustling industry locale of north and central Mumbai, the NSE Exhibition Center, and is a short distance from Film City, the Bombay Museum, and Borivali National Park.
Location– Sahar Airport Rd, near International Airport, Ashok Nagar, Andheri East, Andheri, Maharashtra 400099.
Starting Tariff– USD 141.
Phone No.- 02228303030. Online Booking
4. Hotel Leafio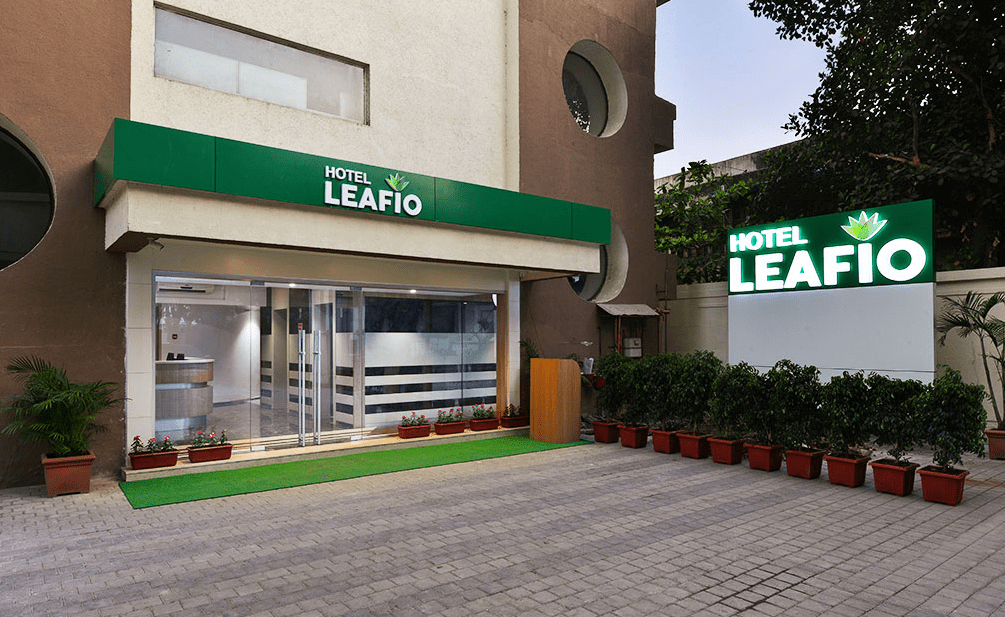 Hotel Leafio is a Business Hotel; it is conveniently located in close proximity to the Mumbai International Airport, though you should factor in about 20 to 30 minutes to get to the airport considering the areas steady traffic.
Be it a domestic or international traveler, this property comforts both guests with affordable, comfortable and relaxing stay.
The hotel offers 39 rooms in various categories. Rooms are clean, and air-conditioned and come with en-suite bathrooms, LCD TVs and writing desks. Wi-Fi is free, and daily housekeeping and toiletries are included.
The hotel has a spacious rooftop restaurant that serves an Indian and continental buffet breakfast with plenty of variety.
Leafio Hotels fall under the concept hotels segment wherein it fits into the budget of every traveler if you are looking for a short stay in the city or for a quick transit. The hotel can also arrange airport transfers at an additional cost.
Location– Sagar Tech Plaza, Andheri-Kurla Rd, Saki Naka, Mumbai, Maharashtra 400072.
Starting Tariff– USD 34.
Phone No.- 08291975550. Online Booking 
5. Waterstones Hotel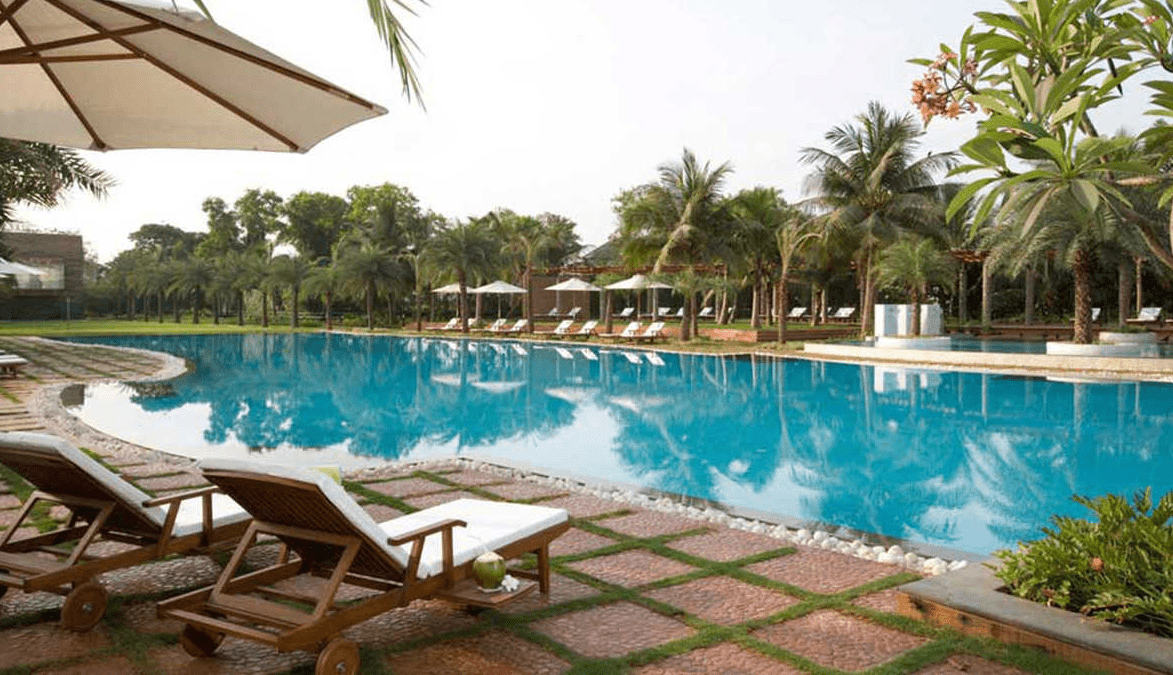 The hotel is rich in originality and feel. Its 99 rooms and suites are open and done up in calming neutrals. The young, hip and friendly staff ensures that the guest's stay is warm and intimate. Street kitchens have existed for centuries in south-east Asia serving up an exotic mix of soups and appetizers.
You will find a great way to create your own meal by taking a walk to their quick work counter, where they will encourage you to interact with their chefs, challenging them with news and exciting combinations from the wide extensive range of seasonal vegetables, meats, noodles, seafood, and sauces.
The Waterstones Club with its broad scope of sports, wellness, amusement and spa services guarantees that your stay resembles none other. A dip in the Olympic sized swimming pool makes spending time with yourself truly uplifting.
There's also a movie lounge, music lounge, and a library at your disposal. The chic On The Rocks bar is perfect for breezy cocktails while looking out over the city skyline.
Location– International Airport, Airport Rd Marol, Andheri East, Mumbai, Maharashtra 400059.
Starting Tariff– USD 90.
Phone No.- 02240906633. Online Booking
I hope this information about "The 5 Recommended Hotels Near By Mumbai Airport, Luxury Hotels" was helpful for you. For any suggestions please do comment on your feedback and share the article on social media.