Most popular public beaches in London, United Kingdom: Everybody wants to have their getaways sometimes, no matter how much of a workaholic you are. It is natural for a human beings to enjoy the calm and peace of the ocean while strolling through the shoreline and a sandy beach, barefoot, with their loved ones, or just a moment for themselves. In this article, we have covered some of the most commonly visited and popular beaches available to the public entry in London, UK, along with the hotels you could stay in If you're feeling like spending a little more time in the peace and calm of natural scenario.
Camber Sands
If you're up for taking nice long walks on a sandy calm beach, then check out the Camber Sands Beach in Sussex. This is one of the most popular beaches in London for its Arabian-looking coastline and has also been the topmost spot for many films, like 'Carry on Follow That Camel' and many more.
The beach stretches about five miles before it takes a turn to the eastern end. You can take your dogs on the leash with you and enjoy the walk and the bay watch. The closest train station from Camber Sands beach is Rye train station, which is about a 12-minute drive away. You can easily lose yourself in this amazing calm beach and shoreline, not though, so you will enjoy a pleasant time if you're looking for a peaceful getaway.
In case you're planning on staying and spending the night there, you can book your rooms starting from 95 pounds at The Gallivant's restaurants and boutique hotel which is within a 10-mile radius of the beach.
Holkham Beach
The Holkham beach is easily listed as a higher tier among the popular beaches in London because of its appearance in the 'Shakespeare in Love' scene, which is made famous by Gwyneth Paltrow. This is one of the best looking beaches in the United Kingdom, and this beach is located in Norfolk which is also one of the nicest places to be if you're looking for a silent getaway for yourself and your family.
Not only that, but the calm scenario in this beach area is sure to meet all your stress down and give you an amazing time whether you're on your own or with your partner on a beautiful evening out for some private getaway. This beach will make you feel like you are miles away from the locality and city zones, far away from the monotonous city life and everyday stress.
The pinewood and saltmarshes, the sea lavender and orchids, and the sight of rare birds throughout the place make this beach easily one of the most incredible and amazing beaches in all of the United Kingdom, all the more reason to put it in one of the highest tiered positions in the popular public beaches in London list.
If you want to stay there for a night or two, you can easily rent out the contemporary cottages in The Victoria Inn, rents of which start at 125 pounds per night.
Porthcurno Beach
There is not much to explain this beach itself really, except for the obvious reasons why we're choosing this beach to be one of the most popular public beaches in London and which is located in Cornwall. The stunning turquoise bay, the beautiful green hills, the dolphins, and the basking sharks – everything about Porthcurno Beach is incredible to look at and feel whether you're going there alone or with a bunch of people.
The white-shell soft sand and the freshwater stream make Porthcurno Beach one of the most popular public beaches in London. If you wish to stay there, you can head to the Cove Cottage for the most delightful of the retreats in Cornwall, with rooms starting from 150 pounds per night. Make sure you plan your trip out because these rooms are for a minimum of a two-night stay.
Rhossili Bay
One of the most popular beaches in London is the Rhossilii Bay beach which is located in Gower, Wales. This breathtakingly beautiful beach is more like a natural treat for your eyes, which is precisely why we're listing it here among the popular public beaches in London that you can visit right now.
This beach not only features a beautiful coastline, but it also features the greenery of mother nature in the form of cliffs, hills, the green peninsula, and stunning panoramic views. The beach features over three miles of golden sand and is dog-friendly all year round, so make sure you get your beloved pets to this place and let them enjoy nature apart from the city life too! In case you're looking for some facilities, fret not, there are facilities available at the Bay Bistro for homemade soups and sandwiches, while there is also the National Trust Shop and visitor center near the village. If you plan on staying, you can book rooms for 80 pounds per night at The Worm's Head Hotel.
Blackpool Sands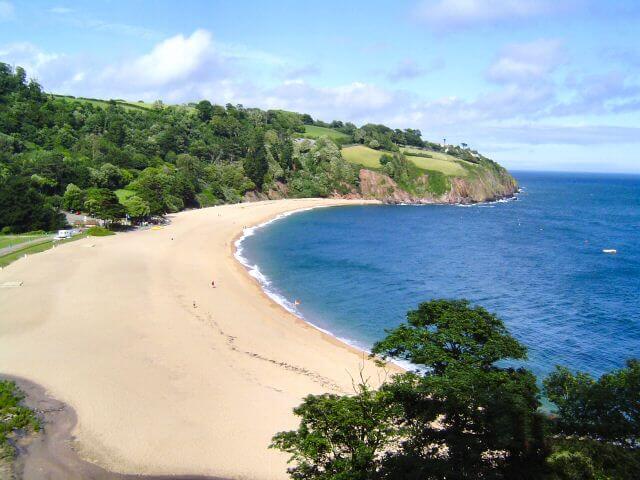 The Blackpool sands in Devon are probably one of the best views you'll be getting on your day out each day and some really exciting fun among many other people who'll be visiting this beautiful beach coastline. If you're someone who would love to enjoy yourself among a large, visible, spectacular number of people and a happy crowd, this is the best place for you to be. Even though there are so many people who visit this beach, the coastlines are quite clean and clear. All you have to do is pay a tiny entry free and you'll be there in no time.
The access to this beach will make you feel like this is the best of all the popular beaches in London if you're there hanging out with your friends and family members. This pebble beach is easily ranked up the tiers in terms of being one of the cleanest beaches in Devon. For some extra fun, visitors can also hire Kayaks starting from a price of 18 pounds an hour, or you could also chill with your family and friends in the Venus Beach Café and get yourself a load of their amazing breakfast dishes and cakes. If you plan on staying there, the Gara Rock hotel and restaurant would be your preferred choice of stay.
Also, Read –Most Beautiful Beaches In The Philippines